---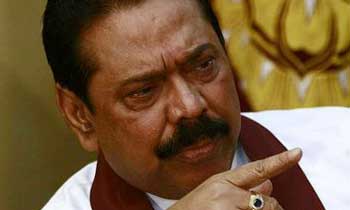 Former President Mahinda Rajapaksa said that they would keep a closer watch, how the newly appointed Justice Minister Thalatha Atukorale worked on her new office.
After attending a religious event at the Sri Venkateshwara Hindu Temple in Modara on Saturday evening, Mr. Rajapaksa told the media that former Justice Minister Wijeyadasa Rajapakshe was removed from the office claiming he neglected his responsibilities.
"Former Minister of Justice was removed stating that he did not take legal court action against the Rajapaksa family. They said that the Minister did not carry his duties properly and influenced the court or the Attorney General's Department," Mr. Rajapaksa said.
He said Minister Atukorale would have to carry out the job, which Mr. Wijeyadasa Rajapakshe failed into do.
He said he would monitor Mrs. Atukorale as to how she would function and complete the job in which Mr. Wijeyadasa failed. (Thilanka Kanakarathna)
Video by Sanjeewa
Video by Buddhi