---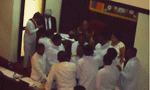 A tense situation during the monthly meeting of the North-Central Provincial Council (NCPC) today resulted in the meeting being adjourned till August 9.
NCPC Chairman T.M.R.Siripala adjourned the meeting when UNP Member D.M.Amaratunga accused the chairman of not including a motion he filed against Chief Secretary K.A.Tilakaratne in the agenda.
The Chairman said it was not ethical to debate an issue against a higher official during a council meeting, because the relevant official would not be able to respond to the charges.
The meeting was initially adjourned for a few minutes but when the sessions resumed, the situation led to a minor brawl with the meeting then adjourned till August 9. (Dayaratne Abogama)