---
Sri Lanka is preparing to be part of the Ramayana circuit planned by India for tourists, the Deccan Herald reported today quoting Tourism Development Minister John Amaratunga.
The Indian government is identifying places connected with the Ramayana, while Sri Lanka has already identified 71 locations across the island for inclusion in the circuit, the news article said.
The Ramayana describes how Sita, Rama's wife, is kidnapped by Ravana and taken away to Sri Lanka. Hanuman then launches a grand operation building a stone bridge across the sea to rescue her.
Minister Amaratunga has told Deccan Herald that Sri Lanka has appointed a committee to identify more places.
He was speaking on the sidelines of the 99th edition of the India International Travel Mart, organised by Sphere Travelmedia and Exhibition, which concluded on Sunday.
He said the government had entered into an agreement with the Indian government to create a full circuit.
"We are closely working with various Indian state governments to link all places. The two countries share a 5,000-year-old relationship," he said.
Excavation is on for more places described in the Ramayana. "We aim to complete the entire circuit by the end of this year. Just like Prime Minister Narendra Modi, we look at Sri Lanka and all south Indian states as one unique unit, housing the maximum Ramayana spots," he said.
The two governments are also working closely on the Buddhist circuit. The spots Buddha visited in Sri Lanka are not well known, said V. Krishnamoorthy, Deputy High Commissioner, Sri Lanka.
He said Sita stayed at Sita Vyasa in Sri Lanka, and was taken to Ussangoda. More than 320,000 tourists from south India visited Sri Lanka last year and a similar number of Sri Lankans visited India, he said.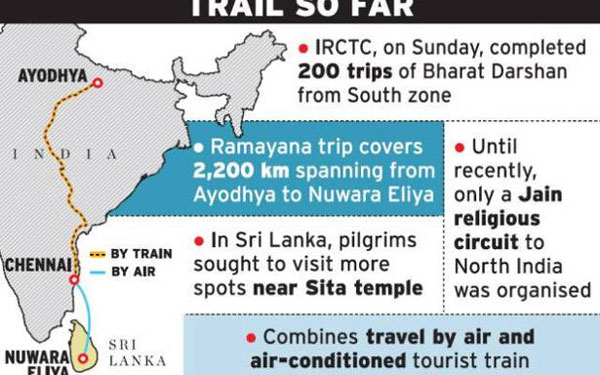 (Pic courtesy The Hindu)