---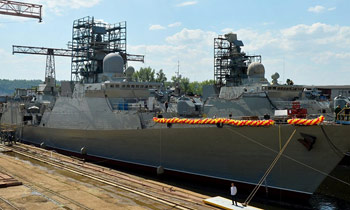 Russia and Sri Lanka are in discussions over a contract on the delivery of Gepard 3.9-class frigates to Colombo, the deputy director of Russia's Federal Service for Military-Technical Cooperation (FSMTC) told Sputnik.
An export version of Gepard-class Project 1166.1 frigates, Gepard 3.9 may be used in wartime to resist the engagement of enemy aircraft, ships and submarines; conduct escort missions; carry out of patrol duties; and provide fire support to landing missions and mine-laying.
"The contract is currently at the stage of discussion," Mikhail Petukhov said at the Langkawi International Maritime and Aerospace Exhibition LIMA-2017 where he leads the Russian delegation.
Russia delivered two Gepard 3.9s to Vietnam in 2011, with two other guard vessels under construction in Russia's Republic of Tatarstan.