---
The recent relaxation of restrictions imposed on several import items might result in some liquidity pressure on the foreign exchange front, a top banker warned.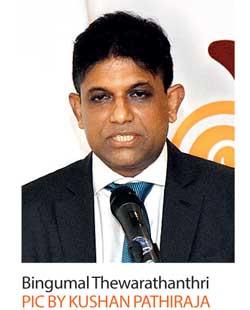 "You might see little stress on the forex front, with the opening up of some imports. Especially, if you allow (imports through) open accounts, undiyal will pick up again as seen in the past," Standard Chartered Bank Sri Lanka Chief Executive Officer Bingumal Thewarathanthri said. The government last week relaxed the restrictions imposed on several imported items, including apparel, clothing accessories, tiles,
air conditioning machines, refrigerators, freezers, household washing machines, electric instantaneous, lamps and light fittings following industry lobbying.
Thewarathanthri stressed that the imports financed outside the banking system could again give rise to the kerb market, which was earlier blamed for the downturn in workers' remittance inflows.
"The moment you allow (imports through) open accounts, people will buy dollars from outside markets and the kerb market will go up," he said.
Despite the recent improvements seen in workers' remittance inflows, exports and tourism earnings, Thewarathanthri also opined that the government shouldn't rush to relax import restrictions.
He highlighted that the tourism sector can be sustained with minimal imports, without relying on imported beverages and ingredients. "Personally, I'm not in favour of opening all these imports. You need to look at what's absolutely essential to run this country," he said. Amid severe foreign exchange shortages, the government banned imports of 1,468 items in August. However, the ban was removed on 708 items in the following month, as a result of lobbying by various parties.