---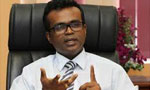 The dog tax was imposed by the former Economic Development Minister Basil Rajapaksa and it was levied even from State sector employees, Deputy Media Minister Karunarathna Paranawithana said.
While answering a question raised by a journalist at the Cabinet media briefing today, Minister Paranawithana said that Basil Rajapaksa was the only person who imposed the real dog tax to the country.
"It was during the former regime that such taxes, like the Poll tax, were imposed on people. Yahapalanaya Government had removed all such taxes and other taxes on essential items and had given the relief to the people," he said.
"Six navy personnel were appointed to look after his dogs at his residence, while imposing a dog tax to the Sri Lanka Army, sending the Government sector employees to dogs," he said
Paranawithana added that various taxes had been in existence since the times of kings. Taxes were paid by labour and money during that time.
"The force, which Basil is trying to make by breaking apart from the Sri Lanka Freedom Party (SLFP), would automatically become a dog force if he is trying to blame the Yahapalanaya government saying it is trying to impose tax even on dogs," he said. (Chaturanga Pradeep)