---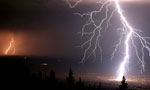 The Meteorology Department forecast evening thunder showers over the island today.
In its weather forecast for the next 36 hours, it said there may be temporary localized strong winds during the thundershowers. People are requested to take adequate precautions to minimize damage caused by lightning.
"Showers are expected in the Eastern and Northern parts of the island in the next few days," the Met Department said.