---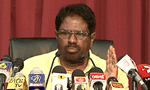 Minister Wijith Wijayamuni Zoysa yesterday claimed former President Mahinda Rajapaksa's henchmen were in overestimated mentality over him and added that they were in a mission to destroy the SLFP by using his popularity.
Addressing a media briefing, Minister Zoysa said several MPs, including Udaya Gammanpila, Wimal Weerawansa, Dinesh Gunewardena, Vasudeva Nanayakkara and Dew Gunasekara were overestimated about Mr. Rajapaksa.
"The formation the Sri Lanka Podujana Peramuna (SLPP) will directly lead to the destruction of the Sri Lanka Freedom Party (SLFP). The SLPP's symbol, the flower bud itself shows that it would not blossom. It was just a paper flower. A flower made by a piece of paper would never blossom. Expecting a paper flower to blossom is similar to a fairy tale," he added.
He said according to his knowledge Mr. Rajapaska does not have any intention to divide the SLFP and he was still a member of that party.
"Earlier, no third force was able to topple the government in the Sri Lankan political history, and only the late Premier S. W. R. D. Bandaranaike and Sri Nissanka were succeeded in doing so," he added.
Meanwhile, he said they have made arrangements to re-organize the SLFP while establishing Bala Mandalas in each electorate island wide from December 4 in order to make the SLFP victorious in the upcoming elections.
Video by Danushka