---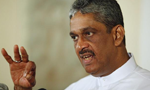 The Sri Lankan government's appointment to parliament of the former army chief whose forces were implicated in widespread abuses contradicts pledges to investigate alleged war crimes, Human Rights Watch (HRW) said in a statement.

"Fonseka's appointment signals that the government may protect senior military leaders suspected of widespread abuses," said Brad Adams, Asia director.

"The government should meaningfully demonstrate to the Sri Lankan people and the UN that it's serious about accountability and not on the road to a whitewash. Fonseka's appointment is a breach of trust for victims and families who believed in this government's commitment to deliver justice for war crimes," Adams said.

Fonseka's appointment was announced the day that President Sirisena met with the UN high commissioner for human rights, Zeid Ra'ad Al Hussein, and renewed his commitment to justice and accountability for wartime abuses, the statement said.

Under UN Human Rights Council Resolution 30/1, adopted on October 1, 2015, Sri Lanka agreed to establish various mechanisms with the assistance of the international community to deliver justice, reconciliation, and respect for human rights. Sirisena has recently elicited concerns about his commitment to justice by saying that it would not be possible to include foreign judges and prosecutors in a justice mechanism, a key component of the resolution", Adams said.

"President Sirisena and Prime Minister Wickramasinghe are sending worrying signals on accountability at a time when they should be presenting themselves as leaders determined to achieve justice for all Sri Lankans," Adams said.

"By giving Fonseka a seat in parliament and the highest military rank, they threaten the goodwill their government has generated since coming to power," he said.