---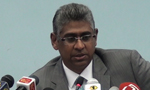 The increase of ministers was essential to carry out the duties of a national government, Provincial Councils and Local Government Minister Faiszer Musthapha said today.
Addressing a media briefing, Minister Musthapha said even though ministerial appointments were given when the Rajapaksa regime was in power by dividing parties, the present government offers ministerial portfolios within the party.
"There is a limitation in offering ministerial portfolios in a national government. Those limits are decided by Parliament," he added.
Meanwhile he said the Local Government Elections cannot be conducted in certain provinces which were free of delimitation issues as per the claims made by the UPFA General Secretary Mahinda Amaraweera.
He also said several institutions including People's Action for Free and Fair Elections (PAFFREL) had requested that the Local Government Elections be held in areas in which the delimitation process had concluded.
"We cannot hold the election immediately. There is a certain procedure to follow. Therefore let me make preparations for the elections according to that procedure," he added.
He said there were legal issues to hold the Local Government Election in selected provinces which were free of delimitation issues. (Kalathma Jayawardhane)
Video by Danushka