---
To prioritise salary and pension payments to public sector employees
Prez informs Cabinet that public sector is facing much severe crisis than initially expected
Tax collection in 1Q23 to remain low due to steep economic contraction in 2022
Says cannot bridge fiscal gaps with monetary financing as in the past
As State coffers have run dry owing to the steep contraction of the economy last year, President Ranil Wickremesinghe has instructed all ministries to cut five percent of their allocated budgets for 2023 to manage limited funds by prioritising salary and pension payments to public sector employees.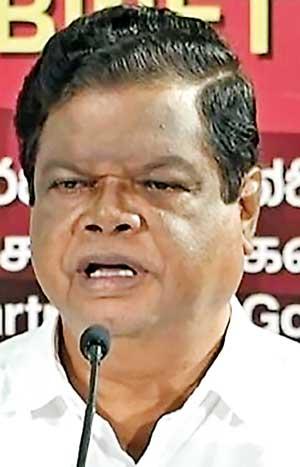 Bandula Gunawardan
"President informed the Cabinet that the public sector is facing much severe crisis than initially expected. This is mainly due to large economic contraction last year, which would limit the tax collection during the first three months of this year. Despite the shortfall in government revenue, we cannot abandon essential government expenditure." Cabinet Spokesperson and Minister of Transport and Highways and Minister of Mass Media Bandula Gunawardana told reporters in Colombo yesterday.
"The main challenge is settling salaries and pensions to public employees at end of every month. We have to give priority to salaries and pensions. After that there isn't much money left for welfare payments," he added.
As a result, the Gunawardana noted that Samurdhi payments might get delayed by two to three weeks in the first quarter of the year. With limited room to cut recurrent expenditure, he noted that ministries are expected to undergo steep cuts in their capital budgets.
The government allocated Rs.4.63 trillion and Rs.1.22 trillion for recurrent and capital expenditures in 2023.
The government was expecting to increase the tax revenue by 69 percent to Rs.3.13 trillion from last year's estimated Rs.1.85 trillion to manage state expenditure while reducing the budget deficit to 7.9 percent of the GDP in 2023. However, Gunawardana noted that the tax revenue is expected to fall in the first quarter of 2023 owing to the large economic contraction in 2022. As debt-restructuring is currently underway with the country's external creditors, Gunawardana pointed out that the government is unable to bridge fiscal gaps with monetary financing (money printing) as done in the past.
Semasinghe assures prompt payment of public sector salaries, welfare benefits
State Minister of Finance, Shehan Semasinghe yesterday assured that the government would continue to prioritise payments of public sector employee salaries, pensions, and welfare benefits despite financial difficulties.
The economy of the country is currently stable despite the ongoing economic crisis. But, we have to admit it is not yet possible to overcome this crisis completely. The full programme required to resolve the economic crisis is currently underway. Payments are provided from the Treasury for necessary priorities in order to manage government revenue and expenditure. There shouldn't be anything to worry about" Semasinghe said in a statement.
In addition, he revealed that the government is currently in discussions to settle outstanding bills to contractors and suppliers in an orderly and efficient manner.
Economy expected to further contract this year
The government expects the economy to further contract in 2023 indicating a prolonged recession, according to Cabinet Spokesperson and Minister of Transport and Highways and Minister of Mass Media Bandula Gunawardana.
Sri Lanka's economy contracted by 11.8 percent in the third quarter of 2022, bringing the nine-month contraction in the economy to 7.1 percent. The Central Bank estimates the economy to have contracted by 8 percent last year.
As per World Bank (WB) projection, the economy was estimated to have contracted by 9.2 percent in 2022. The development lender projects 4.2 percent contraction in Sri Lanka's economy in 2023. Gunawardana dismissed the likelihood of a quick economic rebound this year.