---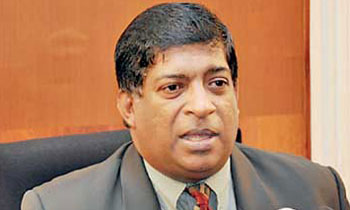 The final details of the agreement to sell the Hambantota Port shares to Chinese State-owned enterprise China Merchant Port Holdings (CMPH) will be finalized this week and the details of the agreement would be announced soon, Finance Minister Ravi Karunanayake said.
"On the Hambantota Port agreement, the Prime Minister and the Cabinet Sub Committee is meeting today and it will be announced today or tomorrow," Karunanayake said yesterday.
When asked what exactly would be discussed at the Cabinet Sub Committee meeting, he replied that there are some issues remaining to be ironed out, after which they would "finish off" the agreement.
The government is planning to sell 80 percent of the Hambantota Port shares to CMPH for US$ 1.12 billion for 99 years.
The government had planned to sign the agreement by January 8, 2017, in order to coincide with their rise to power on January 8, 2015, but then postponed the agreement signing to be within January.
The grand Chinese plan hopes to make the Hambantota Port viable by creating trade volumes through 3 neighbouring industrial zones to which Chinese factories would be relocated to take advantage of Sri Lanka's lower labour costs and strategic location.
China had also said that other countries are welcome to invest in the zones. However, without signing an agreement with a Chinese entity to develop the industrial zones—which would total over 15,000 acres and 2,600 factories—the government went ahead and launched the industrial zones last month.
Development Strategies and International Trade Minister Malik Samarawickrama, who had announced this plan, had last month said that CMPH would still be willing to go ahead with the Hambantota Port agreement even if the industrial zones—which would make the port viable—do not progress.
Both the sale of the port and the provision of land for the industrial zones have run into heavy public resistance.The manner of selecting the partner for the port is also being questioned by politicians of the former regime, since they assert that China Harbour Engineering Company—a sister company of Chinese state owned CMPH, which was also directed by the Chinese government to bid for the port—had presented a better deal in terms of profit sharing and the duration of the lease.
When asked why the government had not opted for an international tender for the sale of the port, Karunanayake said that since a government to government opportunity presented itself, there was no need for a tender process.
Further, he shot down the possibility of Sri Lanka attracting a better deal for the port from another party through a tender. (Chandeepa Wettasinghe)
Video by Buddhi