---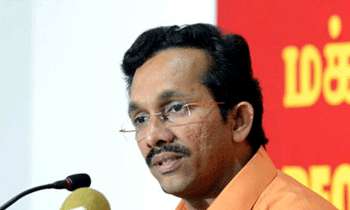 The Frontline Socialist Party should first put into words as to why they want to work with the Janatha Vimukthi Peramuna (JVP) and should accept us as leftists, JVP MP Sunil Handunnetti said.
Frontline Socialist Party (FSP) Education Secretary Pubudu Jayagoda recently said in a news briefing that they were ready to work with the JVP or any party who call themselves leftists at this juncture where the county was embroiled in a devastating showdown in terms of politics, the economy and the Constitution.
Jayagoda said they would work with anybody except with Mahinda Rajapaksa, Maithripala Sirisena and Ranil Wickremesinghe who should be held responsible for this prevailing anarchical state.
Speaking to Daily Mirror, Handunnetti said the FSP had not officially invited them to work collaboratively even though it was mentioned in a news conference. "They left us claiming that the JVPers were not pure leftists. If they wanted to work with us, they should explain on what grounds that they have taken such a step," Handunnetti added.
"Unless they come out with satisfactory remarks over their decision to work with us, we will have to ignore their invitation," he added. (Sheain Fernandopulle)