---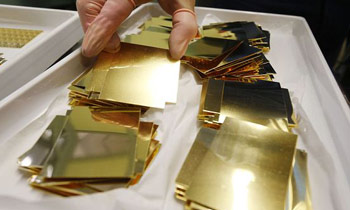 A novel way of smuggling gold was discovered, when Customs officers at the Bandaranaike International Airport seized sheets of gold worth at Rs.2.5 million from a local man bound for Thiruchirappalli (Trichy) in India, today, making it the first detection of its kind.
The Customs officials stationed at the BIA Departure Terminal, on suspicion, searched a man who was to board the UL 131 flight to Thiruchirappalli at 2.00 am yesterday and recovered the gold sheets carefully concealed in his baggage, Customs spokesman, Director Dharmasena Kahandawa said.
The officials found two very thin gold sheets about 1.5 feet in length and five inches in width laid under the false bottom of a travelling bag that could deceive the Customs scanners as a simple metal sheet forming part of the bag's bottom.
Upon inquiry, the man, a resident of Colombo, had told the Customs officials that the gold sheets were given to him by another person to be taken to India on his behalf.
He had said that he was an assistant at a gold jewellery shop in Sea Street, Pettah.
Deputy Director of Customs BIA, Parakrama Basnayake told Daily Mirror that it was the first time the Customs had come across an attempt to smuggle gold in this form.
"We have detected many attempts to smuggle gold out of the country, especially to India, in many forms. But this is the first time we found gold sheets," he said.
He said smugglers look for new methods of smuggling gold to evade detection.
"Nowadays people make many attempts to smuggle goods, especially during the severe rush hours at the airport when scores of passengers are channelled through to different flights at once, as the BIA is available for operations only at night due to the ongoing renovations," he said.
He said there was also a trend to smuggle goods by sea -- and smugglers take gold in boats to the South Indian coastal areas of Rameswaram and Dhanushkodi. (Kurulu Koojana Kariyakarawana)