---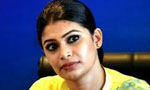 The three-member trial-at-bar bench hearing the case involving the Bharatha Lakshman killing, today issued a stern warning to parliamentarian Hirunika Premachandra over her irresponsible conduct in courts, saying she would be charged for contempt of court if she tarnished the dignity of the court.
The bench made this remark after Ms. Premachandra entered the court chamber midway while the hearing was in progress, ignoring the practice of making the traditional gesture when entering courts halfway. The bench headed by Justices Shiran Gunaratne also included Padmini Ranawaka Gunathilaka and M. K. B. S. Moraes.
CID Inspector Merrill Ranjan was giving evidence with regard to the case when Ms. Premachandra had walked in by opening the closed door.
Though Ms. Premachandra said she made the traditional greeting when entering the court chamber, the bench said they were watchful of all her movements since she entered and warned her to protect the dignity of the court.