---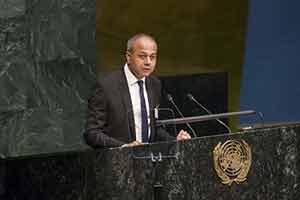 The government will set up a centre for sharing intelligence on Drug Trafficking, Law and Order Minister Sagala Ratnayake said yesterday.
"The Government has taken initial steps to establish "A Centre for Sharing Intelligence on Drug Trafficking" to empower national institutions for accurate information dissemination in South Asian and South East Asian regions, the Minister had told the UN Special Session on World Drug problem held in New York .
Further, he had told the sessions that Sri Lanka stood committed to extend its fullest cooperation to all international efforts to combat the world drug problem, a problem which has no boarders, which threatens to destabilize all our societies.
"Further, the government is fully conscious of its international obligations, particularly those stemming from the Single Convention on Narcotics Drugs 1961, Convention on Psychotropic Substances 1971, and United Nations Convention Against Illicit Trafficking in Narcotic Drugs and Psychotropic Substances 1988 ratified by the government. Sri Lanka also steered the negotiations on the SAARC Regional Convention on narcotic Drugs and Psychotropic Drugs and Substances and is a party to the SAARC Convention, the Minister said.
"The Government reaffirms its political will and determination to tackle the drug problem locally and assist in this cause internationally by reviewing the existing National Policy, which was formulated more than a decade ago," he added.
Mr. Ratnayake said the government is conscious of the illicit production, trafficking and abuse of drugs in the country; adverse effects of drug use on health of drug dependents; the upsurge in drug related crime; the draining of human, natural and financial resources and the destruction of individuals, families and communities due to drug use.
"All institutions that come under government purview will be required to adhere to this national policy. The concerned non-governmental agencies are expected to be active partners in the implementation of the government policy. Fulfillment of the social responsibilities of private sector institutions within the framework of this policy is also critical in drug prevention and control," he added.
He said the overall goal of the government in relation to the drug problem was an ambitious one, to reduce the drug supply and drug use to minimum levels by 2020.This goal will be pursued relentlessly by all drug law enforcement agencies, the government agencies directly involved in drug demand reduction, including provincial and local administrations and other agencies, which have a potential for contributing to the end objective and NGOs and private sector agencies.