---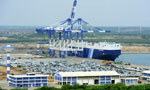 The Government is all set to sign an agreement with the China Merchants Port Holding Company Limited on January 8 next year to transfer the Hambantota Port on a debt to equity swap.
The date has been selected to coincide with the second anniversary of President Maithripala Sirisena assuming office. The Cabinet discussed the matter at length yesterday.
The debt to equity swap will be carried out as part of the Government's move to reduce its foreign debt burden. Under the proposed plan, the government was hoping to raise some US$1 billion as equity from the Port and the Mattala Airport.
The previous government burrowed US$1,328 million from China for the port project. The company has expressed interest in acquiring 80 per cent of assets of the port by paying US$1.08 billion as their portion of the equity payable in instalments
The first instalment amounting to 10 per cent will be paid within a month after signing the agreement, the second installment amounting to 30 per cent within three months and the rest within six months.
President Maitripala Sirisena has also endorsed the proposal. Prime Minister Ranil Wickremesinghe Ranil Wickremesinghe briefed the Cabinet on the proposed plan worked out by the Cabinet sub-committee on Economic Management. (Kelum Bandara)