---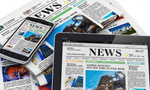 The government is considering setting up an independent authority to regulate the electronic media in the near future, sources said.
According to government sources, there had been a request from the electronic media for such an authority.
The sources also said the authority would have the power to handle complaints made against the electronic media just as the press complaints commission does. However, in this case, the authority would be legally bound to investigate the complaints received -- unlike the press complaints commission.
Commenting on the matter, a government official said the authority would be set up with the consent of all media stakeholders without the involvement of the government. It was also averred that there was no intention of controlling the media through the proposed authority. (Yohan Perera)