---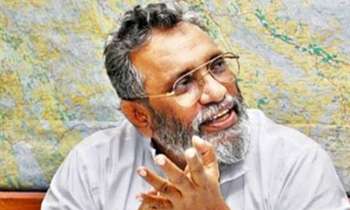 With the submissions made before the court, all would have to accept the decision of the Supreme Court, the Chairman of the National Elections Commission Mahinda Deshapriya said in Matara today during an awareness programme.
"In the event of an issue in the Constitution regarding the dissolution of Parliament, the Elections Commission is bound to carry out the decision of the Supreme Court," he said.
The workshop was conducted for the Matara District Government Officials and civil activists regarding elections.
He said that during the present Political change only one unfortunate incident was the shooting at a State organization and no other serious incidents occurred.
"But in early 2,000s, at the end of an election, there were incidents of arson, killings and State property destruction were observed. We are thankful to the public and the political leaders for avoiding such situations," he said.
"Democracy means respecting the right of others to hold onto their beliefs, and also putting into effect the majority view without harming the minority.
"Even if 175 out of 225 in Parliament remain in one block, the views of the 50 should be allowed without having it bulldozed by the majority. The main feature of Democracy is implementing the wishes of the majority without harming the wishes of the minority.
"What is going to be implemented could be now known by making an inquiry. Presently it is so simple by resorting to sending an SMS. An election is another form of finding out one's preferences.
There are many who refers to Elections as a gimmick bestowed on us by the West. Human Rights, Democracy, Socialism, Fundamental Rights, Good Governance, Discussions, Conventions and Decision making were all ideas that had been cherished by people from the time of the Buddha.
"In the coming year, we have to face three elections. They are Provincial Councils, General Elections and Presidential Election. Despite there been no signs of Provincial Council Elections in the near future, the dates for holding other elections are now nearing. With all these a referendum also might take place.
"However, amidst all these challenges we are geared at any time as the Elections Commission to conduct an election," he said.
"While we were in the process of preparing for Provincial Council Elections, there was this sudden outcry for a General Election. It was not an issue for us as we were ready for sudden situations of such nature. We would readily implement any decision of the Supreme Court.
"Every citizen has the right to plead before the Supreme Court if he or she felt that their fundamental rights are been threatened. We are not certain whether the intention was personal or for the benefit of the general public. It is always better to act in accordance with once conscience, and I do not wish to comment beyond that point," he said.
The Director Legal of the Elections Commission Attorney Nimal Punchi Hewa, the Senior DIG of Southern Province Ravi Wijegunawardene, and GA of Matara Pradeep Rathnayake too attended the programme.(Krishan Jeewaka Jayaruk)