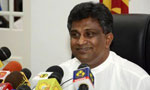 All analog electricity meters in the country would be replaced with smart meters within next couple of months, Power and Renewable Energy Deputy Minister Ajith P. Perera said today.
While addressing a media briefing he said steps had been taken to replace five billion analog electricity meters to smart meters.
"This will take time and very costly. However, will provide a facility to save electricity and will help consumers to minimise their cost and better manage their power expenses," the Minister said.
"Power and Renewable Energy Ministry is to provide electricity supply to each and every low income family without charging a connection fee, from today.
"If a family could not afford to do their house-wiring, that job will also be done by the Ministry. The estimated cost of Rs. 40, 000 would be recovered within six years in 72 monthly installments, which will be added to the monthly bill," the Minister said.
"The facility would provide electricity islandwide," he said.
"Only a 25 percent from the initial cost would be charged when providing electricity connection to Small, Medium Enterprises and large scale companies and the rest 75 percent would be charged within five years on monthly installments.
Those companies could pay the electricity connection fee as they make profits, he said.
"This method would be a relief for companies and it will encourage companies from the beginning," Mr. Perera said.
(Chaturanga Pradeep and Yohan Perera)