---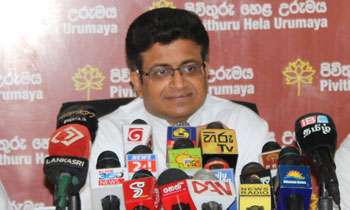 A litre of petrol could be sold for Rs. 90, if not for the taxes, Pivithuru Hela Urumaya (PHU) leader and MP Udaya Gammanpila said today.
"There are four taxes imposed on fuel such as Import Duty, Local Tax, Ports and Airports Development Levy and Nation Building Tax," he said.
Addressing a news briefing, he said when the Government increased the price of 1 litre of Petrol to Rs 137 on May 10, average price of crude oil was $67 per barrel in the World Market.
"The Rajapaksa Government increased the price to Rs. 137 on September 30, 2011, when a barrel of crude oil was $100. We sold a litre of petrol for Rs. 137 when the barrel of crude oil was $100.
"This Government increases the price but when the barrel of crude oil is just $67," Gammanpila said.
"MP Ravi Karunanayake correctly pointed out that the Government had to increase the prices of fuel because of the heavy taxes imposed on fuel.
"Moreover, President Sirisena has promised to remove all taxes on fuel in Page 28 of his election manifesto in 2015," Gammanpila added.
He asked the Government economic specialists to explain as to why they could not sell petrol at Rs 117, when a barrel of crude oil was $67. (Sheain Fernandopulle)
Video by RM