---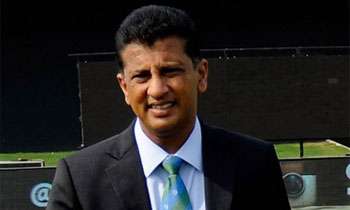 Sri Lanka's new Sports Minister Harin Fernando has invited three former cricketers-Mahela Jayawardene, Kumar Sangakkara and Aravinda de Silva, to present their views on the development of cricket in the country.
Former ICC match referee Roshan Mahanama is set to be the president of the SLC new Interim Committee, the Pakistan Observer reported.
This news was revealed exclusively to a reporter in Mumbai.
Speaking exclusively from Colombo, he says, 'I want to discuss with former Sri Lankan players about how the game can achieve its best height in the country. Earlier they had prepared a presentation but nothing had happened thereafter. I am sure they will come forward now for the betterment of the game in Sri Lanka', he hoped.
Elaborating more about his future plans, he also revealed, 'the selection committee will soon be replaced and Sidath Wettimunny will be appointed the Chief Selector. Mahanama has worked with the ICC and he will be the ideal candidate to head the interim committee', he added.
All these new appointments will be subject to these players' availability.
Ashantha de Mel and other selectors very recently replaced Graeme Labooy and company and in a few weeks' time, the new selection committee will be announced. 'I have also decided to write to the ICC and propose to have its Anti-Corruption Unit be head-quartered in Sri Lanka' (Bipin Dani)