---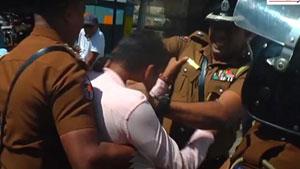 COLOMBO (Daily Mirror) - The president of the Mage Rata organization, Sanjaya Mahawatta, was arrested after protesting in front of the Criminal Investigation Department this afternoon, the police said.
He claimed that no justice had been done to the complaint made against the Health Ministry.
Therefore, he had come in front of the CID and dashed coconuts on the ground, following which he was arrested by the Colombo Fort police.