---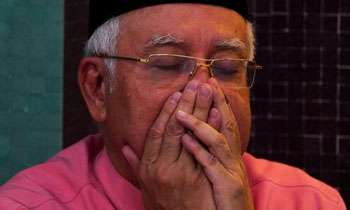 Malaysian police seized 284 boxes containing designer handbags and dozens of bags filled with cash and jewellery from a private residence linked to former Prime Minister Najib Razak on Friday morning.
The items were carted out of a luxury condominium during pre-dawn hours, and included "jewellery, watches and other valuables", police said.
"Exactly how much jewellery, I would not be able to say, because we know that we confiscated bags containing jewellery and the number of jewellery is rather big," Amar Singh, director of police commercial crime investigations, said in a brief presser at the scene recorded by local online channel Star TV.
Singh said police have carried out raids on six premises, which include the prime minister's office and the prime minister's official residence in Putrajaya and four private residences linked to the former premier.
Singh earlier confirmed with Reuters that the raids on the premises are related to an investigation into a multi-billion scandal involving the Najib-founded state fund 1Malaysia Development Berhad (1MDB).
Malaysia's newly-elected Prime Minister Mahathir Mohamad has barred Najib and his wife, Rosmah Mansor, from leaving the country. At least six countries, including the United States, are investigating 1MDB. Najib denies any wrongdoing. (Reuters)