---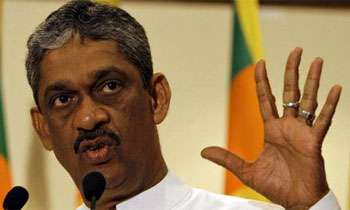 State Counsel Udara Karunatilake appearing on behalf of the Attorney General (AG) today informed Mount Lavinia Magistrate's Court that the CID had started an investigation on whether, Sustainable Development, Wildlife and Regional Development Minister Field Marshal Sarath Fonseka was involved in the abduction and assault of Journalist Keith Noyahr in 2008.
He informed Court that earlier the CID had recorded a statement from Minister Sarath Fonseka regarding the matter.
According to the CID investigations, Noyahr was abducted from his home in Dehiwela and moved to a Military Intelligence Safe-house in Dompe in a white van by a gang led by the first suspect of the case, Major Prabath Bulathwatte.
When the case was taken up in Courts, the CID informed the Magistrate that it would record a statement from the Speaker Karu Jayasuriya regarding the case in near future.
Senior Counsel Nalinda Indatissa appearing on behalf of the eighth suspect Amal Karunasekara requested bail for his client stating that the previous suspects had been also released on bail and there was no harm to the investigation by granting bail for their client.
When requesting the bail for the eighth suspect a heated argument ensued between State Counsel Udara Karunatilake, Senior Counsel Nalinda Indatissa and the Magistrate about using the Fire Arm Ordinance to the case.
The State Counsel informed Court that AG's recent opinion was to use the Fire Arm Ordinance in the case according to the current investigation.
Accordingly, Mount Lavinia Additional Magistrate Lochana Abeywickrama rejected the bail application and ordered to be further remanded the suspect until May 30.
The Magistrate also ordered the Army Commander to provide the necessary documents by considering the initial requests that were made by the CID related to the investigations of the case.
The eighth suspect, Karunasekara was arrested on April 5 by the CID in connection with the abduction and assault of Journalist Keith Noyahr in 2008. He was the Director of Military Intelligence at the time of the incident.
The CID had arrested eight suspects earlier along with Major Bulathwatte of the Military Intelligence Corps in connection with the same case.(Yoshitha Perera)