---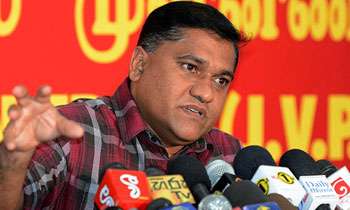 JVP MP Vijitha Herath yesterday rejected the statement made by Minister Rajitha Senaratne where he compared the the Janatha Vimukthi Peramuna (JVP) with the LTTE and said it was surprising for the minister, who had led a terrorist outfit known as "Pra" to make such a statement.
He told Daily Mirror the JVP was a political party that had stood for peoples' rights, their day-to-day issues and for justice.
"The JVP was banned in 1981 based on false allegations against us. But we have done our politics together with the people since 1970. We were suppressed by those who could not tolerate our rise in popularity," the MP said.
He said there were terrorists outfits such as "Kalu Koti, Ukussa and Pra" those days, which acted as an unofficial arm of the army.
"Pra" was one such outfit funded by the then government and arms were provided to it by the government. Mr. Senaratne was a person who operated that outfit. It is surprising that he is pointing fingers at us," the MP said.
He said the LTTE could not be compared with the JVP, because the LTTE was not an organization that worked for the rights of the people.
The MP said Minister Senaratne who was also a Cabinet spokesman was disgracing the government by making such baseless statements. (Ajith Siriwardana)