---
The fixtures for the ICC U19 Men's Cricket World Cup 2024 have been revealed, with the tournament set to take place in Sri Lanka from 13 January to 4 February.
Sixteen teams will participate in the 15th edition of the competition, with some notable tweaks in the format.
It will be the third time Sri Lanka are hosting the tournament, and the first time since 2006. The hosts will open the tournament with a clash against Zimbabwe on 13 January.
India, the reigning champions who won the 2022 edition in the West Indies, will begin their campaign against 2020 champions Bangladesh the next day.
---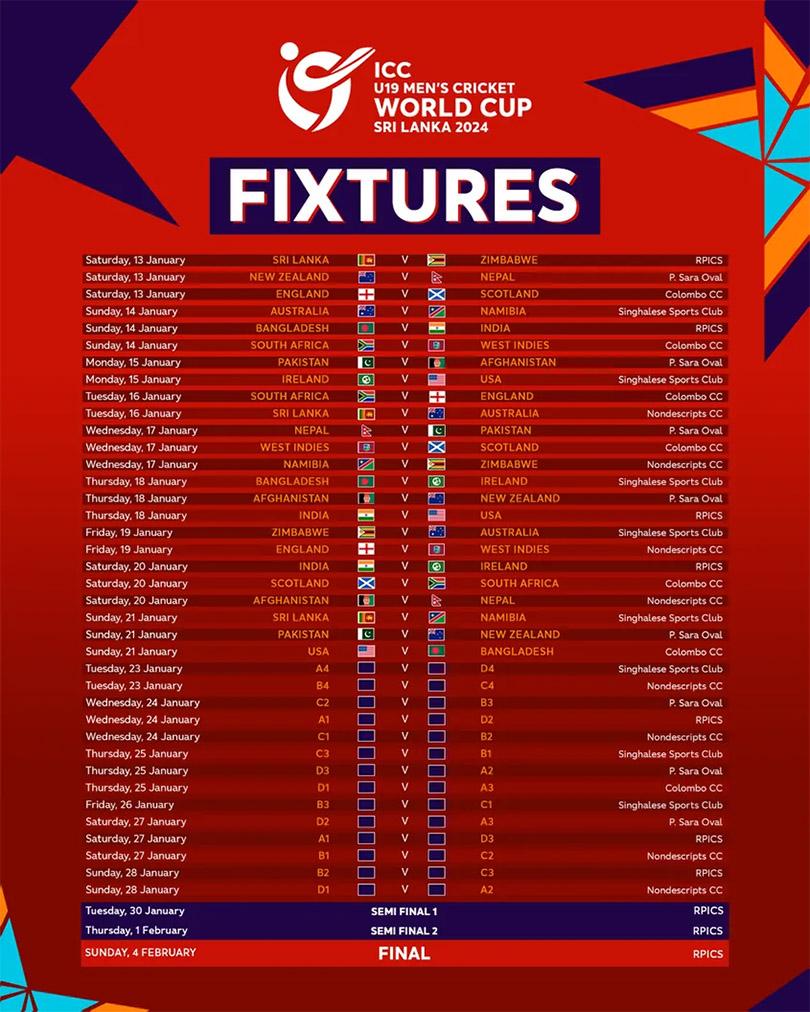 ---
Format changed
The format for the upcoming edition has been tweaked from the previous edition.
The teams will be divided into four groups, each consisting of four teams, but the top three teams from each group will now progress to the Super Six stage. Group stage matches will take place from 13 to 21 January.
---

---
Additionally, the fourth-placed teams in each group will compete in one more match against another fourth-placed team before concluding their tournament.
---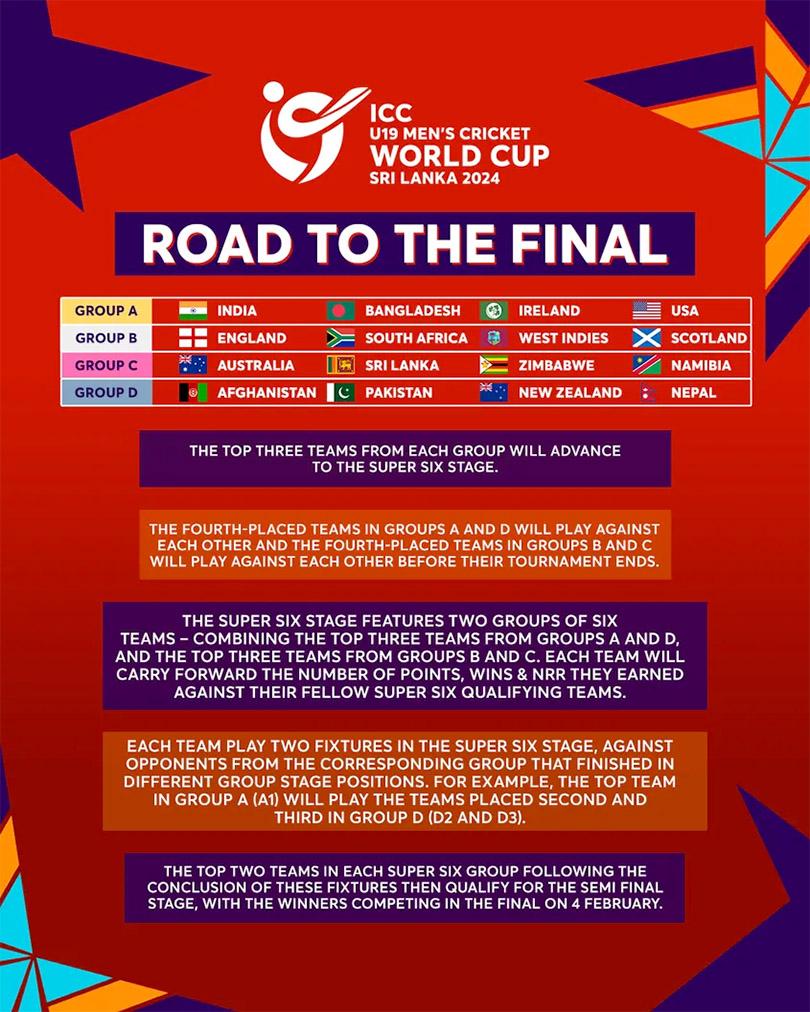 ---
Following the conclusion of the group stage, 12 teams will progress to the next phase, the Super Six. In this format, two groups of six teams will be created, with the top three teams from Groups A and D forming one group, and the top three teams from Groups B and C forming the other.
During the Super Six stage, each team will have two matches to play. They will face teams from the other group based on their positions in the initial group stage. For instance, the top team in Group A (A1) will play against the second and third teams in Group D (D2 and D3). A2 will play against D1 and D3, and so forth.
The top two teams from each Super Six group will qualify for the semi-finals, with the winners of this knock-out round sealing their place in the Final which will be played at the Sinhalese Sports Club in Colombo on, Sunday, 4 February.
The warm-up games are slated to take place from 6 to 12 January. (ICC)
Teams participating:
Through automatic qualification: Sri Lanka (hosts), Afghanistan, Australia, Bangladesh, England, India, Ireland, Pakistan, South Africa, West Indies, Zimbabwe
Through regional qualification: Namibia (Africa Regional Qualifier), Nepal, New Zealand (EAP Regional Qualifier), Scotland (Europe Regional Qualifier), USA (Americas Regional Qualifier).
Venues:
Nondescripts Cricket Club
R. Premadasa International Cricket Stadium
P. Sara Oval. Colombo
Colombo Cricket Club
Singhalese Sports Club