---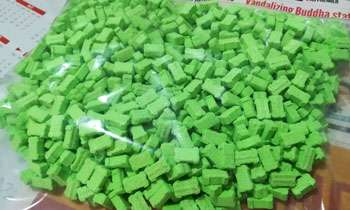 A stock of psychedelic drugs also known as Ecstasy pills worth more than Rs.3.5 million meant for a New Year's Eve party in Colombo was seized by Colombo Excise Station officials in Thotalanga on Friday.
On information obtained from a private informant, Excise officials contacted a person living at Bopitiya in Pamunugama and seized the narcotics when he was lured into a fake deal.
Nearly 988 Ecstasy pills weighing around 457 grams which were in the suspect's possession were seized. An official said a tablet is usually sold at Rs.3,500 to consumers.
Colombo Excise Station OIC Chief Inspector Chanaka Nanayakkara told Daily Mirror the 24-year-old suspect was acting as a caretaker of a Negombo house belonging to a 40-year-old Sri Lankan identified as Dominic now living in France.
He said they believe that Dominic might have smuggled the pills on his half-yearly visits to Sri Lanka.
The suspect has told Excise officers that his employer gave instructions about distributing the pills to selected buyers and to collect the money. He had also been told to hand over a stock of pills to a certain recipient in Colombo meant for a party, which was to be held on New Year's Eve.
Excises sources said the house owner paid the youth lavishly for all for the services rendered apart from looking after the house.
The Ecstasy, which is a psychedelic drug consisted of chemical substance 3,4-Methyl enedioxy methamphetamine (MDMA) and usually consumed by young party goers.
Chief Inspector Nanayakkara is conducting investigations with Excise Inspector Indralal Mahawatte, Excise Sergeant Duhulkumbura, Excise Guards Mohan, Lahiru, Manawadu and Dias on the instructions of Assistant Excise Commissioner B A Dayaratne and Excise Superintendent Vijitha Gamanayake.
The suspect was produced before the Maligakanda Magistrate and ordered to be remanded till today. (Kurulu Koojana Kariyakarawana)