---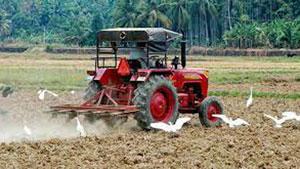 AGUNUKOLAPALASSA (Daily Mirror) - The Agriculture Ministry has decided to provide 40 litres of diesel as subsidy per hectare free of charge for each farmer whose crops were damaged during the last Yala season.
The vouchers for farmers to obtain the fuel were distributed yesterday at an event with the participation of Minister Mahinda Amaraweera during a programme in Agunakolapalassa.
"This fuel subsidy is available to all farmers who suffered crop losses in the Walawe zone, Hambantota and Kurunegala districts as well as all farmers who had reported crop losses during the last Yala season.
At least 65,000 acres of paddy cultivated during the last Yala season were damaged by drought, and the Minister had instructed the Department of Agricultural Development to provide this fuel subsidy to the farmers to harvest their paddy this Maha season," he said.
The Chinese government had provided 6.9 million litres of diesel to the Agriculture Ministry for free distribution for paddy cultivation during the last Maha season. During this distribution of stock of diesel, some small quantities were not taken by some farmers, and 2 million litres of diesel remined.