---
By Chandeepa Wettasinghe
An internationally acclaimed economist yesterday called on Sri Lanka to diversify its technological know-how before seeking investments to boost exports, a failure of which would deteriorate the economy.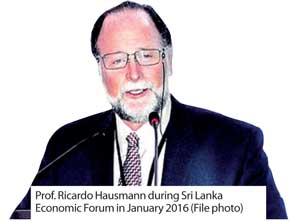 "Investments will come if there is know-how," Harvard Kennedy School Centre for International Development Director Prof. Ricardo Hausmann said yesterday, delivering a lecture in Colombo.
The Sri Lankan government is following an investment-led export growth strategy, which has run into populist opposition in recent months.
Prof. Hausmann said that the 'know-how', which he described as the experience and knowledge an individual gets from the repetition of an action, is different from other components of technology, such as tools, codes or blueprints.
"It doesn't matter how many tools or codes or blueprints you have, if you don't have the know-how," he said.
Prof. Hausmann said Sri Lanka has currently reached too great a level of development for the know-how that the country possesses and that if Sri Lanka does not expand its know-how, there will be economic deterioration.
Countries that had started industrialization with industries such as apparel manufacturing have then moved on to more sophisticated industrial activities such as electronics manufacturing, following which they have ascended to machinery manufacturing, Prof. Hausmann pointed out.
He said that diversifying know-how is a chicken and egg situation and that Sri Lanka has to jump to the industrial activity that has the lowest gap in know-how from its current industries in order to reach industries such as machinery and chemical manufacturing—much like a monkey jumps from a tree on to another tree to travel between two points in a jungle. "Sri Lanka has know-how in garments and rubber products. So you can jump into medical equipment that requires know-how from garments and rubber products before you go into other medical equipment manufacturing," Prof. Hausmann said.
He also noted that, formal education, land, capital, processes and other resources do not have strong links to expanding know-how.
Further, he said Sri Lanka is competing in product categories like garments and rubber products—demand for which is catered to by lower wage countries such as Vietnam and Bangladesh.
Meanwhile, Prof. Hausmann pointed out that Sri Lanka has had the lowest level of export growth compared to competitors, and a decline in exports to gross domestic product while creating only seven types of new products, bringing in just US $ 100 million annually since 1990.
He said Sri Lanka has to export in order to achieve growth and that manufactured goods will play a significant role, since revenue per capita from goods exports far outweigh the revenue per capita from service exports.
However, he said tourism and ICT services do have some room for development in Sri Lanka.