---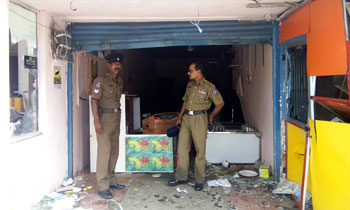 Four shops and a place of religious worship were damaged and three people injured in a clash between two groups in Ampara town and is said to have flared up after some tablets were allegedly found in a meal served by a wayside restaurant to a customer.
The incident had first taken place at the restaurant in the vicinity of temple junction in Ampara on Monday night and the officers of the Ampara Police had come to the scene and launched investigations.
Later an angry mob had attacked several shops in the area with the police finding it difficult to bring the situation under control. Thereafter, police reinforcements had been rushed from nearby police stations and the mob dispersed with the assistance of the STF.
Senior DIG (East) Kapila Jayasekera and major General Mahinda Mudalige, General Officer Commanding – 24th Division and Ampara District Secretary P. Wanigasinghe had also arrived at the scene.
As a precautionary measure, these officers took steps to safeguard all vulnerable religious places of worship in the Ampara Town by deploying the army, police and the special task force and the questionable food referred to the government analyst for further investigations.
Amid discussions held with the Maha Sangha, parliamentarians and the security forces, it was resolved to prevent such incidents in future.
Senior DIG Kapila Gunasekera of the Eastern Division said he was taking steps to arrest the members of the mob and that security would be provided to all the places of religious worship until the unrest subsides. (Wasantha Chandrapala)