---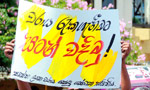 A JVP-affiliated trade union attached to the Sri Lanka Ports Authority (SLPA) had demonstrated against the plan to hand over a 80 per cent stake of the Hambantota Port to a Chinese company to operate.
The Ceylon Ports General Employees Union (CPGEU) had staged their demonstration opposite the Sri Lanka Ports Authority (SLPA) in Colombo, urging the government to reverse the decision taken in this regard.It requested the government not to hand over the ownership of the Hambantota Port to China Merchants Holdings (International) Co. Ltd in an agreement.
CPGEU Deputy General Secretary G. Niroshan said his union would stage yet another protest on Monday wearing black arm bands."We raised black flags throughout the Colombo Port. These protests were also held at the ports in Hambantota, Galle and Trincomalee. Our main objective is to force the government to cancel the agreement and to retain ownership of the Hambantota Port," he said. "The government is attempting to hand over 15,000 hectares of land to Chinese companies which would virtually turn Hambantota into a Chinese colony. We will not allow these kinds of things to take place at any cost.
Because of the pressure exerted on it by the people, the government took a step back and postponed the signing of the agreement which was scheduled to take place today (7). It is indeed a victory for the people. However, we warn the government that we will continue with our protest until it abandons its plans to sign the agreement giving over control of the Hambantota Port to the Chinese," he added. (Thilanka Kanakarathna)
Video by RM