---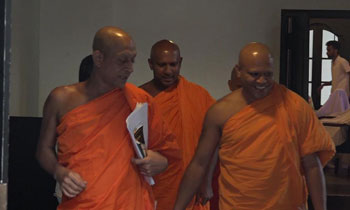 The Karaka Maha Sangha Sabha, of the Malwatu & Asgiriya Chapters today decided that there was no necessity of a new Constitution or amendments to the present Constitution of the country and urged to stop the Constitution drafting process.
The decision has been taken during a special meeting held at the Dalada Maligawa, Kandy yesterday evening, with the participation by the members of the Karaka Maha Sangha Sabha of the Asgiriya and Malwatu Chapters led by Anunayake of the Malwatte Maha Vihare, Ven. Dimbulkumbure Wimaladharma Thera, Anunayakes of the Asgiriya Maha Vihare Ven. Wedaruwe Upali Thera and Anamaduwe Sri Dammadassi Nayaka Thera.
Following a two-hour meeting, Anunayake of the Malwatte Maha Vihare, Ven. Dimbulkumbure Wimaladharma Thera told the media that the proposed Constitution was not suitable as it leads to division of power including the assigning of powers to the Provincial Councils and Pradeshiya Sabhas, which were not entertained even by Parliament.
"We have decided the unsuitability of the proposed Constitution. We say that a new Constitution is not needed. The present Constitution is good for us. We will express protest of the Maha Sangha after briefing the Mahanayakes of the Asgiriya and Malwathu Chapters, Ramannaya and Amarapura Nikayas. We urge the government to stop the drafting process immediately. The present Constitution is better for us. President's powers should be intact. But a electoral system based on first-past-the- post system also should be there. We decided that the Maha Sangha should oppose the proposed Constitution," the Thera said.
Asgiriya Chapter Lekakadikari Dr. Medagama Sri Dhammananda Thera said introducing a new Constitution at this juncture would lead to a racial and communal division.
"The proposals made in the proposed Constitution were detrimental to the unitary state concept and decentralization of state power would create a serious situation. It is evident that the country would be divided," he said. (Text and pix by J.A.L. Jayasinghe)