---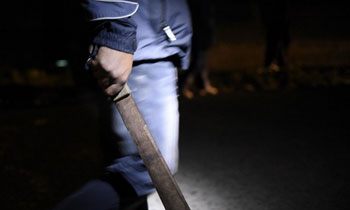 A 35-year-old man of Sri Lankan origin has suffered horrific injuries to his head and arm after two assailants, armed with a machete and a saber, stormed an Indian restaurant in Paris' 10th arrondissement.
The gruesome attack, from which both assailants managed to flee the scene, took place on Monday night in the area of the French capital which is home to a large South Asian community, according to local media reports.
Horrified witnesses described two men, reportedly armed with a saber and a machete, storming the venue and rushing towards one of the visitors – a 35-year-old man from the Sri Lankan community – who was having dinner with his wife.
The victim suffered severe cuts to his elbow, wrist and head, and was practically scalped, according to some reports. He was rushed to hospital in critical condition and was still fighting for his life on Tuesday, according to AFP.
"He was scalped and had his arm and wrist severely cut," a source close to the case said, according to The Local. Authorities launched a manhunt for the suspects, who were allegedly "settling scores in the Sri Lankan community."(AFP)