---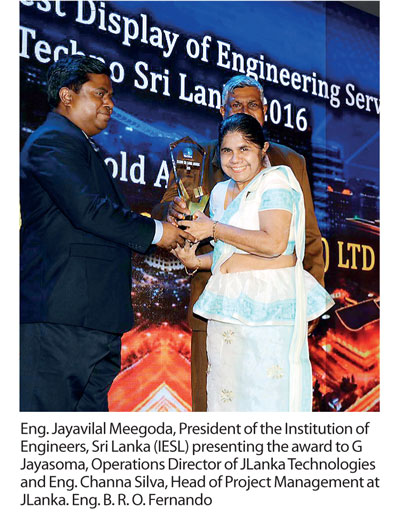 At Techno 2016, the only exhibition to feature the most comprehensive range of engineering and technology related products and services in the country and subcontinent, JLanka once again made their mark, winning the Gold Award for Best Display in Engineering Services and a Merit Award for Best Demonstration.

The exhibition, organized by the Institution of Engineers Sri Lanka held annually for over three decades, attracts a large number of international suppliers and industry leaders to share insights discuss global trends and discover market opportunities across wider spheres of engineering and technology.
Today, as the country's premier solar solutions provider, JLanka is spearheading an energy revolution. During the last six years, JLanka's solar installations have generated over 10MW of electricity. This power is inclusive in the company's annual contribution of 13GW hours of energy to the Sri Lanka national grid. Sustainable practices go hand in hand with renewable energy technologies, with JLanka planting over 18,000 saplings across the country, an overall result of 5,390 tons of CO2 emissions saved
per year.
"We are proud to say that in a short span of six years, we have mastered the art of customizing solar solutions for our country," said Srinath Dolage, Marketing Manager of JLanka.