---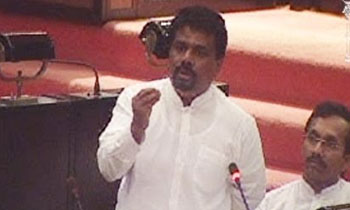 The Janatha Vimukthi Peramuna (JVP) said yesterday it would get the workers attached to Sri Lanka Ports Authority to prevent the government from implementing the agreement which is to be signed today between the Government and China Merchant Holdings.
JVP Leader and Chief Opposition Whip Anura Kumara Dissanayake told a media briefing that signing the agreement itself would not pave the way for the authorities to implement it. "The parties may sign a paper today but the workers at the ports authority could always prevent it being implemented," he said.
The MP said the government led by President Maithirpala Sirisena and Prime Minister Ranil Wickremesinghe have been stubborn when it came to the signing of the Hambantota Port Project agreement. He asked how the signing could take place today when the President himself had assured the trade Union that the agreement would only be signed after obtaining the views of the Opposition.
Blurb -- The government led by President Maithirpala Sirisena and Prime Minister Ranil Wickremesinghe have been stubborn when it came to the signing of the Hambantota Port Project agreement
"President should take appropriate action and have the signing postponed" the MP said and added that the gazette notice pertaining to the fuel distribution an essential service could not be considered as duly approved in Parliament. He claimed that the House was suddenly adjourned when voting was in progress. "Parliament cannot meet when the mace is not in its proper place. Why do we have a special place for the mace if sessions could go on when it is on the shoulders of the sergeant at arms" he asked and demanded that the debate on the gazette notice should be held on another day. (Yohan Perera and Ajith Siriwardana)