---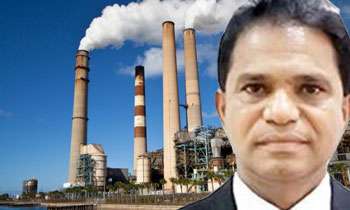 As a matter of state policy, the government will not build any power plants in the future but will provide facilities to the private sector to invest in small, medium and large-scale power plants, Power and Renewable Energy Ministry Secretary Suren Batagoda said yesterday.
He said Sri Lanka was likely to face a power crisis in the next two years pointed out that his Ministry had put in place a strategic plan to mitigate or control the power crisis.
Dr. Batagoda said and plans were afoot to launch a major power generation plant with a total capacity of 1,700 MWs under the recommendation of the 'Long-Term Less Cost Power Generation Plan' that would meet the power requirements or power demands during the next few decades.
"If the Ceylon Electricity Board (CEB) did not sign the power purchase agreement with the 100 MWs ACE Power, Embilipitiya Power Plant on April 15, there was a possibility of their being a power outage in the entire Southern Province. The decision to extend the power purchase agreement with Ace Embilipitiya was a Cabinet decision approved by the Cabinet-appointed Procurement Committee (CAPC). If the CEB had not signed the agreement the power plant would have been shut down by the management and the country would have been in the midst of a major power crisis," he said.
The CEB has managed to purchase power at the lowest cost possible under its mid-term power procurement mechanism by extending the power purchase agreement with Ace Power, Embilipitya MWs at Rs. 22 per unit. If this agreement was not signed, the CEB would have had to make emergency purchases at a unit cost of Rs.28. It may have increased up to Rs.36 or 38 a unit depending on the demand," Dr. Batagoda said. "A 300 MWs LNG power plant will be constructed at Kerawalapitiya with investment from China. Four heavy fuel power plants with the installed capacity of 25MWs are set up at Monaragala, Horana, Pallekekele and Nambuwa. There will a barge-mounted furnace oil power plant of 100 MWs at Galle Port and two 100 MW solar power plants at Sampur and Monaragala. Indian, Chinese, Korean and Japanese investors will invest in the majority of these power plants. The government expects to close tenders for these power projects before the end of 2019."
He said the CEB had already started work on a 100 MW wind power plant in Mannar and two private companies have invested in two solar power plants of 10 MWs in Sampur and Chunakam and that under the Power and Energy Ministry's ambitions 'Suriya Bal Sangramaya' 150 MWs are to be generated with roof mounted solar panels of private houses.
"Our target is to offer tenders to foreign investors before the end of 2019 with the target to commission those major power generation plants after 2003," Dr. Batagoda noted.
Quotes -- If the Ceylon Electricity Board (CEB) did not sign the power purchase agreement with the 100 MWs ACE Power, Embilipitiya Power Plant on April 15, there was a possibility of their being a power outage in the entire Southern Province. (Sandun A Jayasekera)