---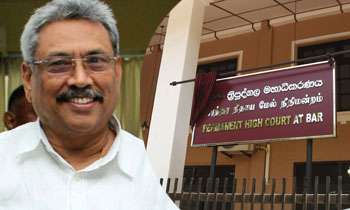 Former Defence Secretary Gotabhaya Rajapaksa arrived at the Special High Court this morning over the alleged misappropriation of public funds for the construction of the D. A. Rajapaksa memorial museum at Weeraketiya.
The High Court summoned Mr. Rajapaksa and six others including SLRDC's ex-chairman L.A. Prasad Harshana de Silva and former manager B.U. Kamaladasa to appear in the court.
The seven accused were indicted by the Attorney General at the HC Trial-at-Bar under the Public Property Act and the Penal Code on charges of abusing public property.