---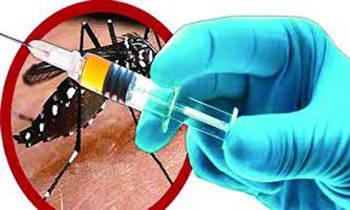 In-depth research needs to be carried out before introducing dengue vaccines including the newly proposed vaccine which is to be introduced in Sri Lanka by the pharmaceutical company known as Sanofi Pasteur, Dengue Eradication Unit's Community Specialist Dr. Priscilla Samaraweera said today.
She said this particular vaccine had several minor issues when it was in the process of being introduced earlier in Sri Lanka.
Meanwhile, the GMOA told Daily Mirror that according to reports a trial session had been carried out recently in the Puttalam District in an effort to introduce this dengue vaccine in Sri Lanka.
GMOA Secretary Haritha Aluthge said this particular company needed to get the approval of the Epidemiology Unit and the National Medicines Regulatory Authority (NMRA) to introduce such a vaccine.
"Introduction of this vaccine to Sri Lanka should be carried out on a scientific basis. It is also necessary to consider the results of the trial sessions before it is approved," he said.
However, our sister paper, the Daily FT recently reported that Sanofi Pasteur was to introduce its dengue vaccine in Sri Lanka and was awaiting Health Ministry approval for use in Sri Lanka.
A company spokesman said Sanofi Pasteur had introduced this vaccine successfully in 17 countries including Singapore, Thailand, Philippines, Brazil and Mexico.
"Sanofi Pasteur is cooperating fully and in a transparent manner with the regulatory authorities to find the best solution to the health issues faced by Sri Lankans and help bring down the human suffering and the burden on the country," he said. (Kalathma Jayawardhane)