---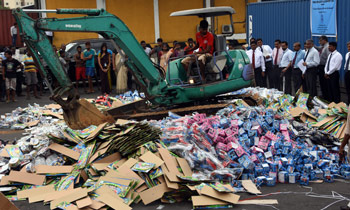 About 450,000 pieces of counterfeit articles seized after being imported from China and India since January, had been destroyed at the Rank Container Terminal (RCT) Container Yard Orugodawatte today, customs Spokesman Dharmasena Kahandawa said.
"The items were crushed in front of the media, while marking the World Intellectual Property Day to convey a message to public to make aware of buying low quality imported items as they could be harmful to consumer and other living beings," he said.
Counterfeit items such as wrist watches, flasks, mobile phones, ear phones and toys were destroyed. The seized items were not valued as they were illegal imports.
"These counterfeit toy items were not suitable for children, because the manufactures have used very low quality material and the paint that they used to color them was poisonous and may create irritations on children's skins," Mr. Kahandawa said.
"Sri Lanka is one of the leading countries when it comes to Intellectual Property Act in the Asian region," he said.
Legal actions had had already being taken against the importers.
Mr. Kahandawa also said these kinds of raids not only brought in revenue, but also protect people, fauna and flora and the economy of the country.
"In this endeavour, Sri Lanka Customs always gives priority to protect the people," he said.
The establishment of the special Directorate of Social Protection was established to protect the country from low quality imports, he said.
"The Consumer Protection Unit (CPU) plays a vital role in safeguarding the health and safety of the people. As the border control agency in Sri Lanka it intercepts and controls goods which are harmful to consumer and other living beings in the country," he said. (Chaturanga Pradeep)