---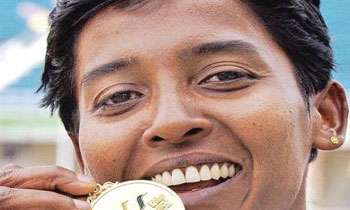 Asian medalist and International acclaimed athlete Sriyani Kulawansa has been enrolled to the Health and Physical Education (BEd) degree at the National Institute of Education (NIE) ignoring the routine enrollment procedures Daily Mirror learned.
The three year course which was suspended for some time had been re-launched last year and the lectures were started on November 24, 2017.
According to sources Ms. Kulawansa has applied for the said degree after the enrollments were closed.
When contacted, NIE Director General Dr. Jayanthi Gunasekara acknowledged that Mrs. Kulawansa's application was submitted after the deadline and since she was a national athlete her application was directed NIE Council for consideration.
"The council after the evaluation procedures, instructed me to change the existing regulations and enroll Ms Kulawansa for the course. I have sought the permission of both the Education Minister and the Secretary over the matter. I do not wish to elaborate further as I have followed the proper procedures," she said.
According to the NIE sources, Ms. Kulawansa had not sat for the entrance examination or the physical fitness examination prior to the commencement of course. She was enrolled at the NIE under the recommendations made by the NIE council considering her contributions to the country.
Ms. Kulawansa had attended the lectures over the weekend after she was informed by the NIE to do so on Friday.
However, the students who are following this course had protested against the move, stating that it's a violation of course regulations.
"We admit that she is a prominent athlete. Due to late enrollment she will not be able to complete 80 percent attendance. Though she is a medalist special concessions cannot be granted. All the students should be treated equally," a concerned student who wanted to remain anonymous said.
According to our sources, the students were told by the NIE officials to welcome Ms. Kulawansa or leave the class if they oppose the decision.
They had left the class room after the decision.
Commenting over the matter Ms. Kulawansa said that she applied for the degree following the Education Ministry informed her to do so.
"On the instruction of the Ministry I applied for the course. I submitted my application on May 2017 and attended the class this Friday. I do not have any issue over the matter," she said.
Sriyani Kulawansa has represented Sri Lanka at three Olympics (1992, 1996 and 2000) and is a Asian and Commonwealth Games medalist. Born in Mar 01, 1970 she is currently the holder of the Sri Lanka record in 100 m Hurdles event. She was also elected uncontested as President of the Sri Lanka Olympians (SLO) last year.
Meanwhile, commenting over the matter Ceylon Teachers Union (CTU) General-Secretary Jospeh Stalin said that Ms. Kulawansa has been accommodated for this course due to political influence.
He said that she could have bestowed with a honourary doctorate considering her commitment to the field of athletics and her achievements. (Thilanka Kanakarathna)