---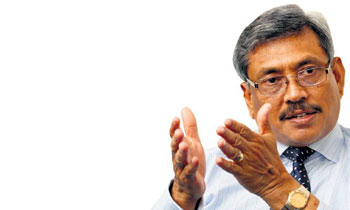 Former defence secretary Gotabaya Rajapaksa, who returned yesterday to Sri Lanka from the US, said he could not accept the Prime Ministerial portfolio because he was an American citizen.
He said this when asked by the journalists at the Airport whether he would accept the Post of Prime Minister if it was offered by the Sri Lanka Freedom Party (SLFP).
"I can't. I am an American citizen. So I cannot accept that portfolio. Besides, who wants to become a Prime Minister in a scenario such as what exists today," he said and added that he had still not decided to enter politics.
Commenting on the results of local government elections, he said everyone has come to realize former president Mahinda Rajapaksa's value.
"He made a great contribution to the country. Some people were misled about his achievements. After three years, they have realised that they have been misled. Therefore, people have shown that they need a Mahinda Rajapaksa administration," the former defence secretary said.
When asked about any of former president's political decisions, the former defence secretary said it was up to the former president.
Meanwhile, he rejected the allegations levelled against him on the Avant Garde issue by the Presidential Commission.
"There is nothing new about these allegations. The Commission does not even know what Avant Garde is," Mr. Rajapaksa said. (Lahiru Pothmulla)