---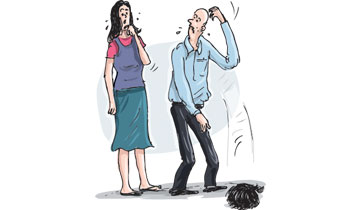 An incident has been reported from a village near Ma-Oya in which the true nature of the would-be bridegroom had been discovered as a result of his wig coming off and falling at the feet of his father-in-law to be. That of course put paid to his chances of marrying his intended bride.
According to a marriage proposal arranged through a match maker, there were ten relatives who came from the Rajarata area including the parents of the bridegroom to be. They were warmly welcomed by the family of the bride-to-be including her parents and kith and kin, where they were served sweetmeats and betel as was the custom. After both sides got to know each other, a decision was reached to set a date for the wedding.
All was going to plan when the unthinkable happened. While in the act of bending down to touch the feet of his intended father-in-law, as was the tradition, the intended bridegroom's hair (which everyone thought was real) fell off and it was then that it dawned on the shocked onlookers, including the bride's father, that he was in fact wearing a wig. After picking up the fallen hair-piece and realising the deception that might have taken place as well as the effect it would have had on his daughter, the bride's father handed it over to his intended son-in-law and requested him to leave his home taking his family along with him. He had a last piece of advice to share with the 'deceiver'. He told him to make very sure that his hair-piece was stuck firmly to his head when he went to visit a prospective wife in future.
In the meantime, the family and relatives of the bridegroom made a hasty retreat after getting into the vehicle they had arrived in. "These are good lessons for everybody, this is why it is said that the lifetime of lies is very short," said the intended bride who was embarrassed by the events that had taken place. (Jayantha Kumara Dissanayake)