---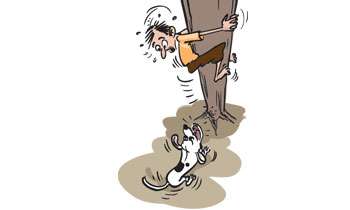 A beggar, who pretended to be dumb, suddenly screaming blue murder when a dog tried to bite him took everyone by surprise. The incident was reported from the Aniwatta area in Kandy.
A beggar came up with a way, which thought to be clever, pretending to be dumb with the hope that people would feel sorry for him and give him money. He went up to many affluent households and begged for money using sign language to show that he was unable to speak.
His method was quite successful and many felt sorry and offered him money and food. However, his luck changed in dramatic fashion when one day while he was going through his usual begging routine a ferocious dog got loose and chased him causing him to let out a shout for help saying "Budu ammo mawa beraganin". He then climbed a tree in order to get away from the chasing dog. The dog was not able to get hold of him but managed to rip his sarong off.
It was then that he realised the consequences of what he had just done because his charade was now known to all those who witnessed the incident. That was the last the public saw of the 'dumb' beggar who must have known his time was up and that he would not be able to fool any more people in the future. (Dhammika Gunawardena)