---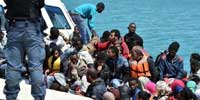 The UN's human rights chief voiced alarm Monday at the increasing detention of migrants in Europe, including unaccompanied children, amid widespread anti-migrant rhetoric across the continent.
As Europe faces its biggest migration crisis since the aftermath of World War II, UN rights chief Zeid Ra'ad Al Hussein said he had sent staff members to assess areas along the main migration routes in the central Mediterranean and Balkans.
"They have observed a worrying increase in detention of migrants in Europe, including in the hotspots, (which are) essentially vast mandatory confinement areas which have been set up in Greece and Italy," he told the opening of the UN Human Rights Council's second annual session.
"Even unaccompanied children are frequently placed in prison cells or centres ringed with barbed-wire," he said, insisting "detention is never in the best interests of the child." Zeid urged the EU to collect data on migrant detentions by member states, warning that "the figures would, I fear, be very shocking." More than one million people made the journey to Europe in 2015, the majority fleeing war in Syria and the Middle East, and a further 208,000 have come since January, according to UN figures. (AFP)