---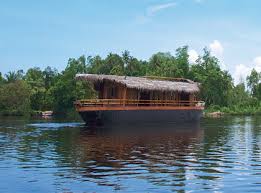 The first of its kind and a trail blazing joint venture between Jetwing Hotels and MMBL Leisure Holdings (Pvt) Ltd. Yathra by Jetwing is now ready to experience a new dimension of relaxation through floating leisure; another milestone in Sri Lanka's thriving entrance into sustainable eco-tourism.
Inspired by the Kettuvallam, a woodenhulled and thatch-roofed houseboat, used to advantage tourism in the backwaters of India's Kerala state, Yathra by Jetwing is the first of five luxury houseboats in a joint venture between Jetwing Hotels and MMBL Leisure Holding (Pvt) Ltd – the leisure arm of MMBL-Pathfinder Group of Sri Lanka.

The concept of this venture is reminiscent of ancient Ceylon's padda boats - the flatbottomed, punt-shaped barge that once helped transport heavy goods and family members of boatmen to and fro on the waterways of yonder.


Yathra by Jetwing, the first locally built houseboat since the padda, revives the dynamic boating culture of the past, with an infusion of elegance and luxury, to provide a deeply satisfying and soul-stirring experience. Crafted from bamboo for an exotic oriental ambiance, with classic teakwood floors in the upper and lower decks, Yathra by Jetwing has a thatched roof sheltering two plush air-conditioned cabins, with private balconies and attached luxury bathrooms. The galley in the aft is equipped to prepare fresh food for every meal, and is also able to accommodate passenger requests for dishes of freshly bought fish, crab and shrimp, along the way. The spacious dining area of the boat is open to the passing scenery, and can comfortably seat 6-8 guests.

The upper deck provides cool shade under canvas sails during the day, and in the night, allows the allure of romantic star-encrusted skies, and the ecstatic feel of boundless space. Time pauses briefly to allow the floating sensation to calm rushed souls.

This is the magnificent outcome of a two and a half year process of creativity, designed by Sunela Jayewardene (a leading environmental designer), and built by Neil Marine (Pvt) Ltd.


Yathra by Jetwing has a pre-set 18-kilometre voyage plan for about four hours, up the undisturbed, mesmeric Benthara River.

The voyage starts from the Dedduwa Boat House by Jetwing in Bentota, all the way up to Awiththewa, a small scenic hamlet 18 kilometres from Bentota. Yathra by Jetwing docks at Avittewa, and is another adventure on the horizon, as the Benthara River forks a short distance upstream to become the Pelawatte River and Pitigala River, and invites the traveller to imbibe more of nature's treasure troves especially a peek at the robust birdlife in the area. Small boat excursions are available to venture further into this ethereal realm, to ride down the Elpitiya Ela.

The Chairman of Jetwing, Hiran Cooray brings out his thoughts saying, "at Jetwing, we have always believed in something new. We love to create, and push boundaries that will give us and our visitors new opportunities and experiences. This is a project that has so far exceeded LKR 60 million."

Chairman MMBL Leisure Holding, Bernard Goonetilleke, says, "Sri Lanka's tourism industry needs to be innovative to the untapped segments of the market, like the 25-35 age group."