---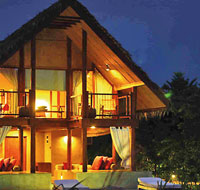 Nothing quite says romance like a secluded spot on an exotic island, fringed by powdery white beaches and deep aqua blue waters, or a lush green jungle brimming with biodiversity, complemented by a world class spa that engages the best of nature. The world's largest continent, Asia, naturally contains all of the above, sometimes even in the same spot. Listed below is a standout resort from each of Asia's main countries that offers a chance for a tryst with love and a vibrant mixture of colours, smells and tastes that will leave with you a lasting memory." – Chinmoy Lad, luxury travel and food blogger.



Sri Lanka, a land of mystery and romance… filled with tales of love, both ancient and modern, the island stands out amidst others in Asia. Within this beautiful country lies a secluded paradise, a haven of nature and luxury – Jetwing Vil Uyana. An ambitious project, and jointly owned by Jetwing, Sri Lanka's premier hospitality brand and Zinc.

Hospitality through its brand 'Zinc Journey', a cutting edge hospitality company based in Asia. Jetwing Vil Uyana is the only Sri Lankan resort listed in A Luxury Travel Blog's compilation of Asia's Most Romantic Resorts (www.aluxurytravelblog.com/2014/01/14/ asias-most-romantic-resorts).

Jetwing Vil Uyana joins an elite list, with other properties such as W Retreat & Spa (Maldives), Trisara (Phuket, Thailand), Six Senses Ninh Van Bay (Vietnam) and others. Renowned luxury travel and food blogger Chinmoy Lad, the author of the list, had the following to say about Jetwing Vil Uyana:

"What I love: In the shadows of a 2,000 year old rock fortress sits a man-made wonder that has perfected a balance of living between mankind and nature. The man-made wetlands are host to this unique resort that houses stilted thatched-huts above its green wetlands, with the region displaying a stunning wealth of biodiversity."

A perfect description of Jetwing Vil Uyana, now home to 80 species of birds, 17 species of mammals, and a fascinating variety of insect life and flora. Spread over 27 acres of man-made wetland, the eco-resort features 30 private dwellings in five distinct habitats – Water, Paddy, Marsh, Forest and Garden. No stranger to international renown, Jetwing Vil Uyana was also the only Sri Lankan property to be listed by National Geographic Traveller in their World's Best Ecolodges issue in mid-2013.

Zinc Hospitality (www.zinchospitality. com), the hospitality arm of the diversified global conglomerate Cinnovation|CG (www. cinnovationgroup.com) is a cutting edge hospitality company breaking new ground through pioneering hospitality products that stand out for the value and experience they provide to guests and stakeholders. The company provides strategy, management and brand-related investments for new or existing hospitality projects throughout Asia, Indian SubContinent, Middle-East, East Africa, to name a few. Zinc Hospitality already has joint investments in some of the leading and prestigious assets across these regions with some of the other leading brands as well.

Family owned and in the tourism industry for the past 40 years, Jetwing Hotels has surpassed expectation at every aspect. Building on their foundation of being passionate, as well as the experience of true, traditional Sri Lankan hospitality, constantly pioneering discoveries captures the essence of the brand.

Such a strong statement and direction have enabled Jetwing Hotels to imagine, create and manage marvels and masterpieces, where distinctive design and elegant comfort complement each other and the environment. Considered a priority, sustainable and responsible practice is implemented through the award winning Jetwing Eternal Earth Programme; with energy efficiency, community upliftment, and education of earth saving measures to schoolchildren being a few tenets of the programme.