---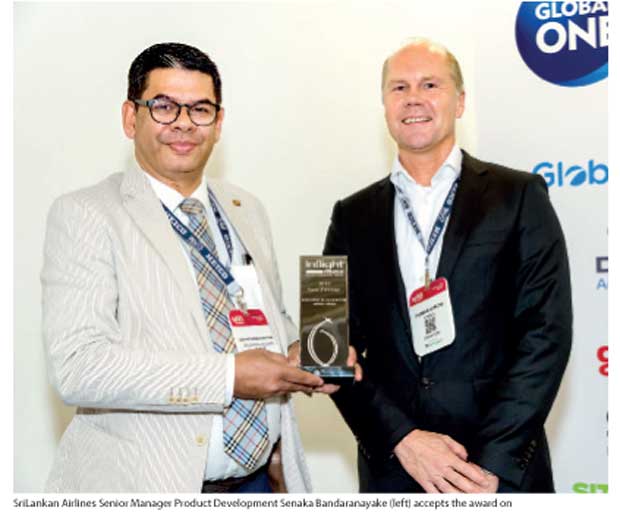 SriLankan Airlines added yet another prestigious award to its impressive list of recent global airline industry accolades when it won the 'Innovation in Commercial Airline Cabins' award at the In-flight Asia Pacific Awards in Singapore recently.

SriLankan Chief Commercial Officer Siva Ramachandra said, "We are delighted to win this award, which recognizes excellence in innovation of passenger cabins. This award is an extremely valuable one since the highlighted cabin/seat design was developed using our in house talents."

The nominated cabin design highly impressed the panel of judges comprised industry experts who are well versed with all of the aspects of aircraft cabins. The innovative features of SriLankan's cabins included A330-300 Business Class flat-bed seats, A330-300 Economy Class seat fabric design and bulkhead designs inspired by the natural beauty of Sri Lanka. The Sinharaja rain forest, a world heritage site in Sri Lanka, is home to endemic and endangered flora and fauna, which are woven into the Economy seat fabric design in shades of blue and aquamarine.

The cabin ambience is further enhanced with the mood lighting, recreating a beautiful tropical sunrise, flowing from the back of the cabin to the front to wake up before breakfast is served. For evening flights we emulate a typical Sri Lankan 'fairy sky' sunsets, which transcends to sleep with the sparkling of stars in the night sky creating a unique passenger experience. The 'Innovation in Commercial Airline Cabins' award was one of just seven that were presented at the Inflight Workshop, an open forum for lively debates on key topical issues in the areas of inflight entertainment, cabin technology and aircraft interiors, in Singapore recently within the Inflight Pavilion of the MRO Asia-Pacific exhibition hall.

SriLankan Airlines was also shortlisted as a finalist in two other categories - 'Inflight airline of the year' and 'Airline IFEC experience'. Other winners included Virgin Australia, Lufthansa Systems, Inmarsat, Singapore Airlines/Travelport Digital, Stellar Entertainment and Spicejet/STG Aerospace.

The 'Innovation in Commercial Airline Cabins' award recognizes recent revolutionary developments in cabin interiors of commercial aircraft. The category was open to manufacturers, suppliers and airlines operating in the Asia-Pacific region. Shortlisted finalists for this award included Cobalt Aerospace, Saudia and STG Aerospace. In-flight Asia Pacific Awards are presented by HMG Aerospace, a leading publisher, event organiser and intelligence provider serving the international
aerospace community.

Last month, SriLankan Airlines received the prestigious Four-Star Rating from the Airline Passenger Experience Association (APEX) in the first-ever global airline industry rating programme based solely on passenger feedback.