---

Sri Lanka Tourism concluded its wide range of road shows in Eastern Europe including Poland , Czech Republic and Hungray on 14th , 16th and 19th of September respectively , in collaboration with the Sri Lankan Embassy in Poland.
The lighting of the traditional oil lamp was an important segment of every event, which gave the industry members a glimpse of the Sri Lankan culture.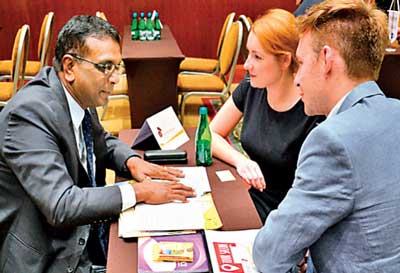 The reason of having these road shows in Eastern Europe was to promote Sri Lanka as a tropical and a beautiful country to explore, with its ancient culture and heritage, history and its pristine beaches. Sri Lanka is growing to be a famous tourism destination among European nationals, hence, the mission of Sri Lanka Tourism is to promote this paradise island even more, with so many natural resources and getting more European tourists coming especially from Eastern Europe.
Therefore, the European market is an important factor in raising Sri Lanka's economy, and enhancing the market in Eastern Europe, is something that should be taken into consideration. Along with Sri Lanka Tourism, industry members such as Ceylon Roots , Asian Adventures, Aitken Spence Travels (Pvt) Ltd. Journey Escapes , Lanka Sportrezien, Tropical Asia Tours, Pledge Holidays , Camlo Lanka Tours , Clover Lanka Travels , Coral Sands Hotel , Green Holiday Centre, NKAR Travels , Andrew the Travel Company , Jetwing Travels (Pvt) Ltd , Ayubowan Tours and Travels , Golden Isle Travels , E Tourismo Lanka, Sunway Holidays and Qatar Airways .
Thirty five companies and 20 journalists from Poland participated in the road shows which were held while 38 tour operator companies and 17 journalists came from the Czech Republic, and Hungary added its contribution with 56 tour operator companies and
23 journalists.
Sri Lanka wants to develop trade contacts in order to expand the Eastern European Tourism market. Tourist arrivals from Eastern Europe region was at 97,583 in August 2016 which was a 6 percent increase over the same period last year. 9 percent of arrivals were from Poland and 12 percent from the Czech Republic. Thus, this will be a good opportunity for Sri Lanka to develop bilateral ties and also strengthen the tourism sector boosting up the Eastern European market.