---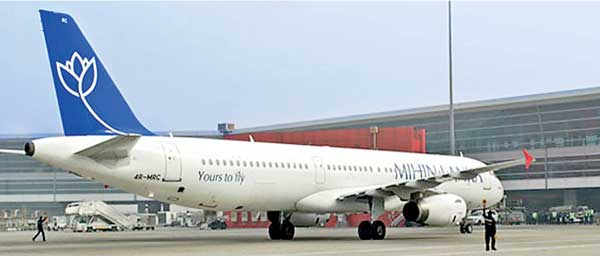 With reference to several media reports on the financial performance of Mihin Lanka, the now defunct airline, yesterday issued a statement to clarify its financial position.
Following is the full statement.

Mihin Lanka (Pvt) Ltd., was incorporated 27th October 2006 pursuant to Sec 15 (1) of Companies Act No. 17 of 1982 and re-registered under the Companies Act No. 7 of 2007 on 6th July 2007.
The airline commenced operations in April 2007 with 2 wet-leased narrow bodied aircraft, initially operating to several regional destinations. Cash-flow problems forced the airline to suspend its operations in April 2008 and it resumed operations in January 2009 with another wet-leased aircraft. The airline moderately expanded its operations during the subsequent years, serving 12 destinations at its peak.
However, despite initial expectations of Mihin Lanka being a budget carrier with a potential to be profitable, the financial performance of the airline since inception has been far below expectations. Mihin Lanka has never recorded an annual profit since inception and the accumulated loss as at 31st March 2016 was
Rs.17.27 billion.
The table below highlights Mihin Lanka's financial performance since inception as per the audited accounts.
The financial performance for the current year has followed the same trend of losses. For the six month period ending 30th September 2016, the airline reported a net loss of Rs.181 million and for the remainder of the financial year it was budgeted to lose a further Rs.1 billion.
Under these circumstances, a proposal was made to the Cabinet Committee on Economic Management (CCEM) held on 14th September 2016 for SriLankan Airlines to take over all routes of Mihin Lanka by 30th October 2016, which was approved. This approval upheld an earlier Cabinet directive regarding the same matter issued in April 2015.
The enhanced network and better economies of scale are envisaged to improve SriLankan Airlines' financial performance and result in a
net benefit.
Accordingly, SriLankan Airlines has taken over the services to Mihin Lanka destinations effective 30th October 2016. Of the nearly 300 employees of Mihin Lanka, 130 employees have already been absorbed by SriLankan Airlines effective November 2016. The remaining employees have been offered a VRS scheme in accordance with Government specified guidelines.
In view of the ongoing GoSL led project to find a suitable partner for SriLankan Airlines to form a Public Private Partnership (PPP), it has been decided that Mihin Lanka will continue to have its Air Operator Certificate (AOC) until 31st
March 2017.